Questions may be directed
via our Facebook page...

Adobe
®
Reader
®
is needed to download the following documents. A free download of Adobe
®
Reader
®
is available by clicking on the logo...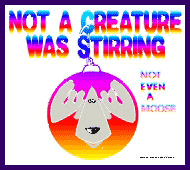 PACT presents a Christmas Benefit Dinner Theater production:
"Not a Creature Was Stirring, Not Even a Moose"
by Pat Cook
Directed by Steve Allar
Come and enjoy dinner and an evening of Christmas mayhem and chaos with editor JJ Garnes as he receives a letter from a small boy who "don't want no more Christmas." He the tries to use the letter to expose a crooked mayor and maybe sell a few more issues of the Herald Tribune. In the process they find a "Wish Moose." When the wishes start to come true, hilarious consequences ensue.
Dinner and play — $30. All seats reserved.
Pittsville Community Center
8237 Main Street
Pittsville
Thursday, Dec. 1, 6:30 — Beef Tips and Gravy
Friday, Dec. 2, 6:30 — Baked Chicken with Gravy
Sunday, Dec. 4, 2:00 — Baked Ham
Thursday, Dec. 8, 6:30 — Roast Beef
Saturday, Dec. 10, 6:30 — Saucy Turkey
Sunday, Dec. 11, 2:00 — Scalloped Potatoes with Ham
Call 715.773.0354 for reservations.
More details can be found
here
.
Click here
to download a map that will help you locate the Pittsville High School Auditorium.
Thank You for your support of PACT!
PACT functions through the generous support of many! We welcome your donations of time, talent, and treasure. Donation Form...
PDF download link