Coming This Summmer!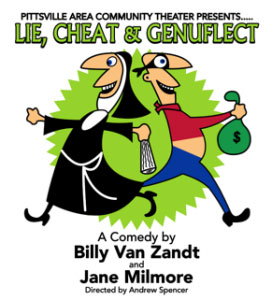 Lie, Cheat and Genuflect
, a comedy by Billy Van Zandt and Jane Milmore, directed by Andrew Spencer and presented under arrangement with Samuel French, will be performed Thursday July 19, Friday July 20, and Saturday July 21 at 7 PM and Sunday July 22 at 2PM in the Pittsville School auditorium.
The Buckle Brothers, Billy and Tom, Laurel-and-Hardy types, are in big trouble: Tom's losing streak at the racetrack has drained Billy's savings, and Billy just found out about it. The real trouble is coming from loan shark Pizza Face Petrillo, who gave Tom a loan. Pizza Face is calling in the debt now! Grandfather Buckle's will is about to be read, but the two black sheep doubt they'll be included. What else to do but hatch a crazy scheme to get away with the entire fortune? Add a stuffy lawyer, a lush of a housekeeper and three lovely ladies, and you have the makings of a laugh-filled farce of twists, turns and pratfalls. Not to mention the mistaken identities, the baby, guns, a nun on the run and... boxer shorts?
Cast:
Jared Peters..............Tom Buckle
Andrew Stienert..............Billy Buckle
Jo-Lea Binger..............Virginia
Alexis Redmond..............Jane
Serena Eckes..............Girl
Stephanie Riedel..............Miss Mackintosh
Randy Fochs..............Pizza Face
Wes Reshel..............Robert